Announcing 2011's Vare Writer-in-Residence:
Steve Coll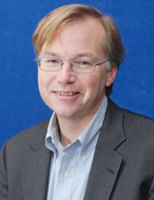 Steve Coll is president of New America Foundation, and a staff writer at The New Yorker magazine. Previously he spent 20 years as a foreign correspondent and senior editor at The Washington Post, serving as the paper's managing editor from 1998 to 2004. He is the author of six books, including The Deal of the Century: The Break Up of AT&T (1986); The Taking of Getty Oil (1987); Eagle on the Street, based on the Pulitzer Prize-winning account of the SEC's battle with Wall Street (with David A. Vise, 1991); On the Grand Trunk Road: A Journey into South Asia (1994), Ghost Wars: The Secret History of the CIA, Afghanistan and Bin Laden, from the Soviet Invasion to September 10, 2001 (2004); and The Bin Ladens: An Arabian Family in the American Century (2008).
Mr. Coll's professional awards include two Pulitzer Prizes. He won the first of these, for explanatory journalism, in 1990, for his series, with David A. Vise, about the SEC. His second was awarded in 2005, for his book, Ghost Wars, which also won the Council on Foreign Relations' Arthur Ross award; the Overseas Press Club award and the Lionel Gelber Prize for the best book published on international affairs during 2004. Other awards include the 1992 Livingston Award for outstanding foreign reporting; the 2000 Robert F. Kennedy Memorial Award for his coverage of the civil war in Sierra Leone; and a second Overseas Press Club Award for international magazine writing. Mr. Coll graduated Phi Beta Kappa, Cum Laude, from Occidental College in 1980 with a degree in English and history. He lives in Washington, D.C.
The Committee on Creative Writing wishes to extend its continued gratitude to Robert Vare.
In 2000, UofC alumnus Robert Vare (A.B. '67, A.M. '70) approached John Boyer, the Dean of the College, with the idea of starting a Writer-in-Residence position at The University of Chicago expressly devoted to nonfiction.
Chicago has had numerous writers-in-residence over the years–in fiction, poetry, and playwriting—but this was the first time that the university had given this kind of recognition to nonfiction writing as an intellectual discipline and art form.
The program, which operates under the aegis of the Committee on Creative Writing, brings to campus a different nonfiction writer of unusual accomplishment every academic year to teach one writing course for one quarter. The syllabus, structure, and content of the course is entirely up to the individual writers-in-residence, though all courses have a strong workshop component and provide students with opportunities for significant hands-on writing experience. While on campus, Vare Writers-in-Residence are encouraged to make full use of campus resources and to participate in the University community.
The program has proven to be a great success with students and faculty, as well as with rotating writers-in-residence themselves. Previous writers-in-residence have noted how gifted and highly motivated their Chicago students have been. David Hajdu called them the best he'd ever taught and described Chicago as "the fulfillment of my dream vision of what a great university is."